Free SEO Audit & Analyzing Tool
Improve your SEO with the best website checker on the market
Easy-To-Use SEO Audit Tool
SiteAuditorPro crawls your website and gives you a full and comprehensive SEO report based on your website's internal links, HTML tags, backlinks, page speed, mobile usability, text statistics, social media presence, organic presence and content quality.
The Perfect tool for Digital Agencies and SEO Experts
Embed our free SEO audit tool in your site and get much more leads and sales
Our platform provides an excellent tool for your company to analyze client websites. To use the tool, you need to upload your company logo, choose your preferred colors, select the used tests and add your contact information. The embedded form will require the user to type in a URL and a valid email address to which the finished report will be sent.
You can customize the form according to the style of your site - specify the desired colors, adjust the width and so on.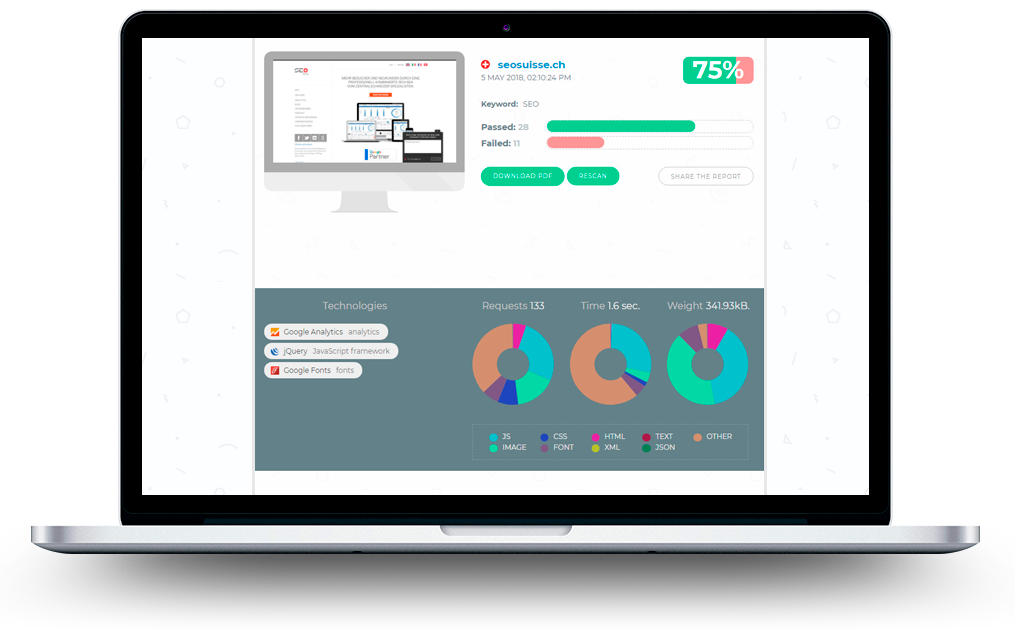 Everything you need in one place
The Site Auditor Pro dashboard provides quick insights into what's currently going on with your and your competitor's website. All of the tools are right at your fingertips. With one click, you can see how your site is doing. The dashboard offers instant access to reports, monitors, and analysis tools.
Create your custom branded PDFs
Get access to all of Site Auditor Pro's powerful features like it's your own application.
Upload your own logo and company's contact details. Generate custom branded PDFs to send to your customers.
Customization Options
Customize your reports to your heart's desire – change colors, use your needed languages (English or German), upload your logo, add company details and adjust the styling to suit your brand. Choose which specific checks and sections you'd like to show, and add custom text content for that personal touch.
What does Site Auditor Pro provide?
Website optimization has many facets. SiteAuditorPro provides a wide range of tools to help you improve your website. Try our free tools.
SEO friendly URL
Checks if your webpages' URLs are SEO friendly. In order for links to be SEO friendly, they should contain keywords relevant to the page's topic, and contain no spaces, underscores or other characters.
Image «alt» test
Using relevant keywords and text in the alt attribute can help both users and search engines interpret the subject of an image. This feature checks if the images on your webpage are using alt attributes.
Favicon test
Checks if your site is using and correctly implementing a favicon. Favicons are small icons that appear in your browser's URL navigation bar. They are also saved next to your URL when your page is bookmarked.
Page size test
Checks your page size. This means the size of the entire HTML code on your web page including images, external javascripts and external CSS files.
Mobile snapshots
Checks how your website renders on mobile devices - e.g., tablets and smartphones.
HTTPS Test
HTTPS should be used by any site that collects sensitive customer data. Google is increasingly using HTTPS as a positive ranking factor.
Compression/GZIP
HTML compression plays an important role in improving the website speed by finding similar strings within a text file and replacing them temporarily to reduce overall file size.
Site loading speed
Page speed is an important factor for search engine rankings and the overall site success. Pages that take longer than 5 seconds to load can lose up to 50% of their visitors. Faster webpages result in higher traffic.
JS and CSS minification
This checks if any of the external javascript and CSS files used in your page are minified.
Meta tags page analyzer
Checks the meta tags within your page and determines if meta title tags, meta description tags, meta robot tags and meta keyword tags are in place. Meta tags do not affect how your page is displayed, but help indicate to search engines the topic of your page.
H1 and H2 tag test
Checks if your webpage content uses H1 and H2 HTML header tags. Header tags are not visible to users, but help clarify and support the overall theme or purpose of your page to the search engines. The H1 tag represents the most important heading.
Robots.txt file analysis
Does your website use a robots.txt file? When search engine robots crawl a website, they typically first access a site's robots.txt file. Robots.txt tells Googlebot and other crawlers what is and is not allowed to be crawled on your site.
Disallow directive checker
Checks if your robots.txt file is instructing the search engine crawlers to avoid parts of your website. The disallow directive is used in robots.txt to tell the search engines not to crawl and index a page.
URL redirects checker
Checks how many redirects your URL will perform to resolve the final destination URL. Redirects often cause search engine indexing issues and can also lead to some minor loading delays.
Social media check
Checks if your page is connected to one or more of the popular social networks. Social signals are becoming increasingly important as ranking factors for search engines to validate a site's trustworthiness and authority.
What are you waiting for? Try it now!
Site Auditor Pro is currently completely free to use. Get access to all features!